Loughborough rectory drug den faces demolition call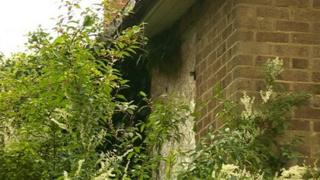 A derelict Leicestershire rectory that has become a "melting pot of crime" should be demolished as soon as possible, residents have said.
The building, on Steeple Row, Loughborough, which was sold to a developer in 2009, has been targeted in repeated arson attacks.
But campaigners also said it was a haven for drug users and drinkers.
Charnwood Borough Council said the owner, which has not commented, had submitted a demolition notice.
The building is a two-storey brick house dating from the 1950s.
Jonathan Hayes, who has organised a 1,000 signature petition asking for the site to be cleared, said it was having a huge impact on the area.
Security measures
"It is full of needles, the fences are being pulled down and the needles are getting into the nature reserve behind," he said.
"As well as the addicts, the rectory is just outside the no drinking zone and we have evidence of shoplifting and vandalism, so it is a melting pot of crime and anti-social behaviour.
"While a demolition notice has been submitted, we want to make sure this is acted upon and the wider problems are addressed."
A council spokesman said the authority had investigated the site after issues were raised by a member of the public.
"Council officers visited with the police and advised the site owner about the condition of the building and that a complaint had been received," he said.
"Officers also offered to ask Serco, the council's waste management partner, to clear used needles from the building. The council understands the owner has taken further steps to secure the area."
The owner of the site, Willetts Homes, has six weeks to carry out the demolition notice. It has not responded to requests for a comment.