Uplands Junior: Head suspended and governors curbed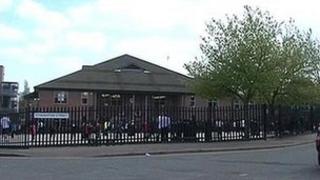 The head teacher at a troubled Leicester school has been suspended by council education officers.
Governors at Uplands Junior School have also lost some powers after they were given a warning notice to resolve a dispute with unions.
The council said the relationship with governors had not improved and "decisive action" was needed.
A temporary head has been appointed and lessons would be unaffected, officials added.
In the past year staff at Uplands Junior School have staged three one-day walkouts over restructuring plans which would see the loss of eight teaching assistants.
In March, staff backed a vote of no confidence in head teacher Tim Luckcock and the chair of governors Abid Matak over the loss of the posts and the way the school was being run.
During the summer, the city council warned governors it would ask education ministers for permission to remove them if the situation did not improve.
Assistant City Mayor for Education and Children's Services, Vi Dempster, said the latest move would "stabilise the school".
"We needed reassurance that the relationship between the governors and the local authority would improve.
"Unfortunately when we looked at what was being proposed, we felt the relationship had not improved, so we took decisive action.
"This has gone on for months and there is no doubt it is affecting standards within the school," she said.
Mr Luckock has been suspended for a limited, but undisclosed, period.
The council said the governors would remain in place but financial and staffing decisions would be taken by the authority.
A request for permission to appoint an interim executive board would also be going to the government, officials added.
The governors Mr Luckcock have so far declined to comment on the developments.