Richard III's Leicester reburial plans on hold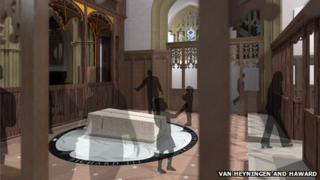 The planned reburial of King Richard III at Leicester Cathedral looks set to be delayed after officials deferred a decision over plans for his tomb.
The remains of the king, who died in battle in 1485, were discovered by archaeologists under a council car park in the city in September 2012.
He was due to be reburied at the cathedral next summer.
But the body which rules on changes to Church of England buildings has asked for more information on the plans.
The Very Rev David Monteith, Dean of Leicester, said: "Leicester Cathedral recognises the complexity of the case the Cathedral Fabric Commission for England is having to deal with.
"We are disappointed but we appreciate that it is rare for a major application of this kind to be approved at the first discussion owing to its complex nature."
The project would cost up to £1.3m, of which £96,000 would be spent on the tomb and vault.
The outcome of a legal battle over where the last Plantagenet king will be buried also remains unresolved.
Distant relatives of Richard III, the Plantagenet Alliance, favour reburial in York and have won a judicial review challenging a decision for the king's bones to be reinterred in Leicester.
Dean Monteith said any final decisions must await the outcome of the review.
"We fully respect that legal process," he said.
He added the cathedral's chapter, which is the body responsible for its administration, will discuss its response to the commission's decision later this week.
Richard, who reigned from 1483, was killed in the final battle of the Wars of the Roses at Bosworth field in Leicestershire in 1485.
The discovery of his remains amid the buried ruins of an old friary beneath a car park last year sparked worldwide interest.
The king was found following a lengthy campaign by members of the Richard III Society.