Mallory Park 'will hopefully resume racing next year'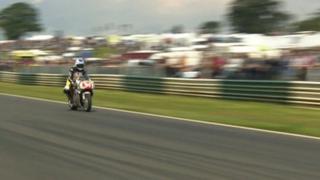 Racing could resume at Mallory Park in Leicestershire next year with new operators, after the existing company went into liquidation on Tuesday.
Operators Mallory Park Motorsport Ltd (MPML) started administration proceedings last month after a loss in earnings following a legal dispute.
Hinckley and Bosworth Borough Council had said the track faced an uncertain future when MPML was wound up.
But the authority revealed it has been approached by potential new operators.
'Noisy' activity
"The borough council is hopeful that racing will resume at Mallory Park next year with new operators of the track," a council spokesperson said.
"Three potential operators have made initial approaches to the council in the last few weeks to identify the limits which might be placed on them in relation to 'noisy' activity.
"We will do whatever we can to make that a reality, although we are dependent on continued goodwill from Titan properties, the owner of the land."
No-one from landowner Titan Properties Ltd was available to comment.
The council, which took the legal action, issued a notice in 1985 which dictated how many days the track could be used and restricted noise levels.
The number of noise complaints about the track rose from eight 15 years ago to 153 in 2012, with residents in nearby Kirkby Mallory describing the noise as "intolerable".
After a two-year legal dispute, MPML was found guilty of five charges of breaching noise levels and fined £2,500, plus £23,000 court costs, in August.
The company, which employs 145 people, said it had reduced circuit activity to two-days-a week following the ruling and had suffered a significant loss in income as a result.