Sikh leader attack: Sri Satguru Uday Singh Ji denies sexual abuse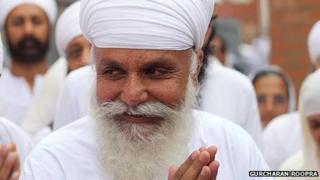 A Sikh religious leader has told a court that claims he sexually abused a man who attacked him with an axe are "totally absurd".
Sri Satguru Uday Singh Ji, described by police as the worldwide spiritual head of the Namdhari community, was attacked at a temple in Leicester.
Harjit Singh Toor, 27, has admitted causing grievous bodily harm with intent but denies attempted murder.
The prosecution alleges the orthodox Sikh was motivated by religious hatred.
But Toor claims he was abused by the religious leader in India in both 1994 and 1995, when he had yet to be elevated to holy status.
Asked by prosecutor Gordon Aspden if there was a word of truth in the allegations, the religious leader said: "Absolutely none, it's totally absurd."
Giving evidence via video link, he rejected claims that he had abused Toor at the Indian headquarters of the Namdhari branch of Sikhism.
Answering questions from Toor's barrister, Francis Laird, he also repeatedly denied having visited a property where the sexual abuse is alleged to have taken place.
He said: "I have never met him [Toor] as far as my memory goes.
"I have not met him and there is no question of any events happening - I have never visited that particular village at all."
Concealed axe
The religious leader described being attacked at the Gurdwara Namdhari Temple on 11 August, just hours after arriving in the UK.
Toor, of Woods Close, Oadby, Leicestershire, had concealed an axe under his clothing, Birmingham Crown Court heard.
The religious leader said: "He removed his shawl or blanket and suddenly he came out with the axe.
"My sudden reaction was to lift my right arm and move slowly backwards.
"I felt a lot of pain. There was excruciating pain in the arm and I was dazed by the attack. It was so sudden."
His face was slashed and his arm was broken as he tried to protect himself, jurors have heard.
The trial continues.