Swine flu outbreak on Leicester Royal Infirmary ward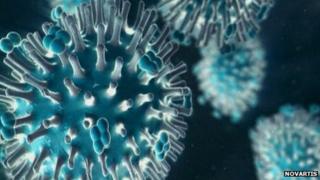 A ward at a Leicester hospital where six children were diagnosed with swine flu has been intensively cleaned in a bid to prevent further outbreaks.
The children were diagnosed with the H1N1 virus at Leicester Royal Infirmary and have been treated separately from other patients.
Ward 12 reopened on Tuesday and since then there have been no fresh cases.
Dr David Jenkins, from Leicester Hospitals, said staff brought the outbreak under control promptly.
Three of the patients remain in isolation on the ward, one patient has been discharged and the other two have been transferred to other areas of the hospital, the University of Leicester Hospitals NHS Trust said.
All six children were diagnosed with the condition on 14 February.
The trust also said it had vaccinated as many front-line staff as possible against the swine flu virus.