Leicester pushchair deaths: Sharmila Mistry 'lost control'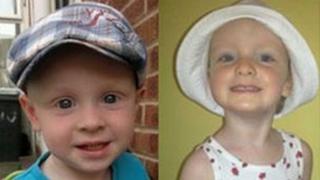 A woman accused of causing the deaths of two toddlers by careless driving lost control of her car after it was hit by another vehicle, a court has been told.
Oliwier Baczyk, one, and Zofia Tabaka, two, died in hospital after the crash in Leicester on 6 August 2012.
Sharmila Mistry, 41, of Dalby Avenue, Bushby, is accused of causing death by careless or inconsiderate driving.
A 61-year-old man arrested at the time of the collision has since died.
Leicester Crown Court heard the defendant was driving her BMW at 36mph in a 30mph zone when she was hit by a Mini, which pushed her car into the two children at the junction of Braunstone Gate and Narborough Road.
She had also been talking on a hands-free phone.
Describing how her car had jolted from the impact of the other vehicle, she told the court: "I completely froze, my hands were on the steering wheel but I wasn't in control."
She said the vehicle had filled with smoke after the airbags activated.
"I thought the car was going to explode," she told the jury.
The prosecution alleges the accounts manager of 12 years was distracted by her phone call and because she was driving over the speed limit it minimised her chances of avoiding the collision.
She accepts she was speeding but denies the phone call had distracted her.
The case continues.