Richard III: Does it matter where he is buried?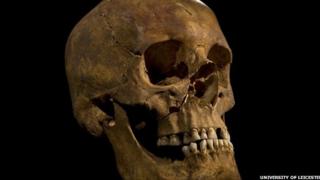 King Richard III's distant relatives hope to win another stage of their legal battle over his burial place this week. If they win, the dispute is set to last longer than his actual reign. Why has the argument gone on so long and are we at risk of getting bored?
Few monarchs have fascinated the public as much as Richard, whose battle-scarred remains were exhumed from beneath a Leicester car park almost 19 months ago.
At 26 months, he had one of the shortest reigns in English history, ending when he was killed at the Battle of Bosworth in 1485.
Immortalised - some say defamed - by Shakespeare, his reputation has long been the subject of a tug of war between those who believe he murdered his nephews and seized the throne and those who feel he has been unfairly maligned.
Since his body was found in September 2012, the unseemly row between Leicester and York over where to bury him has dragged on.
The Plantagenet Alliance, a group of distant relatives, has challenged the terms of the licence under which the archaeologists were granted permission to dig. They say there should be a public consultation on where he should be buried.
But why? After all, there was no public consultation on where to bury other monarchs.
"Because he is of enormous cultural and historical significance," says Matthew Howarth, the Plantagenet Alliance's lawyer and an expert in judicial reviews.
"He was one of the last medieval kings. You can't simply leave a decision on where to bury him to the University of Leicester and the Ministry of Justice."
But what of this lengthy delay, this undignified fight over the bones of a previously-reviled king?
"It is deeply regrettable, it's crazy," says the Father Andrew Cole, spokesman for the Catholic Diocese of Nottingham, which includes Leicester.
King Richard III was a Catholic and was buried with full Catholic rites in a marked grave.
Father Cole says he does not mind which city he is finally laid to rest in but the church would like him reburied as soon as possible.
"What some people forget is his funeral has already happened," he says. "A Christian ceremony was held and his body was given back to God.
"We would like his body reinterred as soon as possible and for him to be treated with the deepest respect. Not just because he was a king but because they are the mortal remains of a human being."
The Plantagenet Alliance agrees the delay is wrong - but accepts no responsibility saying a consultation would have negated the need for a court battle.
"All we ask is for those people who have a view, his descendants and interested parties, on where he is buried are heard," says Mr Howarth.
"This is no challenge on a whim. The court has agreed there is merit in our argument and that's why we've got a judicial review."
That the people of Leicester want him is not in any doubt. He has a long association with the place with pubs, streets and schools named in his memory.
But is all of this legal wrangling exactly the kind of thing that risks turning the public off?
Leicester local historian Richard Gill believes it might.
"I have no doubt the people of Leicester want to keep him here," he says. "I'm not sure they are that interested in the design process and the arguments."
And in York - already a city famed for its historical sites - do people really care if Richard III is buried there?
A rough BBC survey of people in the city centre suggested the dominant feeling was apathy.
"I think it's all a row about nothing," says John Curtis. "York has enough history on offer. We don't need him here and - let's face it - he has been dead an awful long time. I think only a few people are actually that interested."
However Richard Hutton, a pensioner, believes York should be the late king's final resting place.
"He was only found in Leicester because he was killed near there - and that is his only connection to the place - whereas this is the place he spent most of his adult life," he says.
"York is probably where he himself might have chosen to be buried."
Mr Gill points out that "there's no evidence he wanted to be buried in York".
"Doubtless he hoped for a long and fruitful reign and then to be buried in Westminster Abbey with the other kings and queens," he adds.
Whatever the case, three judges will assemble in London on Thursday to hear both sides' arguments.
It could end on Friday, with the Plantagenet Alliance's challenge thrown out and everything back on track for a reinterment in Leicester Cathedral later this year.
Or the court could decide there should be a consultation with interested parties, restarting the whole process again and dragging the debate on for even longer - although at least providing a possible ending.
To quote Shakespeare in his play on the king's life: "Alas, why would you heap this care on me?"