Richard III: Judicial review bones decision deferred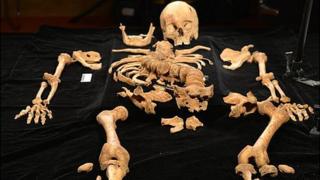 A decision which could influence the final resting place of King Richard III's remains has been deferred.
The king's skeleton was found beneath a Leicester car park in 2012.
A group of distant relatives challenged a Ministry of Justice licence which would have seen the bones reinterred in Leicester cathedral.
The High Court heard demands that the fate of the remains should be put out to a consultation but the three judges said they would reserve judgement.
A decision is expected in between four and six weeks.
'Fanciful and absurd'
Richard was killed in battle in 1485 and buried in a Leicester church, which was subsequently demolished and lost.
The University of Leicester, which conducted the dig during which the grave was found, said it gained the exhumation licence from the Ministry of Justice in line with normal archaeological practice.
James Eadie QC, representing Justice Secretary Chris Grayling, said there was no reason to treat the king's remains any differently to any other remains which may be exhumed, and the secretary of state had "no duty" to consult people who were not "close relatives" of the king.
Anya Proops, for the university, told the court: "The current, very undignified, squabble - a squabble, we should say, not of our making - over where his remains should be buried should now come to an end and his remains should be laid to rest in the majestic setting of Leicester Cathedral."
But Gerard Clarke, counsel for the relatives known as Plantagenet Alliance, said the university's claim was little more than "finders keepers".
He continued: "It would be fanciful and absurd that if the Queen died on a visit to a primary school in Lowestoft she should be buried there."
One of the judges, Lord Justice Ouseley, remarked: "Richard III would have raised an eyebrow if he'd been told there would be public consultation on his reburial 500 years on.
"Kings of that era weren't democrats."
Lady Justice Hallett, sitting with Mr Justice Ouseley and Mr Justice Haddon-Cave, said the court would take time to consider its judgment and told the parties: "We shall let you know our decision as soon as possible."