Moghul Durbar restaurant attack: Man, 25, in guilty plea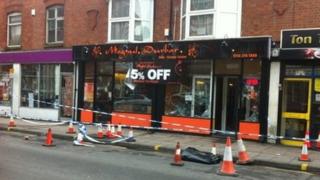 A 25-year-old man has pleaded guilty to taking part in an attack on a crowded restaurant in Leicester.
Manveer Tiwana, from Slough, admitted a charge of conspiring to cause violent disorder at Moghul Durbar in East Park Road, on 14 January, 2013.
He entered his guilty plea at a hearing at Nottingham Crown Court on Friday.
Seven men were jailed for two years for their part in the attack last year. A further three men are due to go on trial in April.