Leicestershire chief constable: Stop and search more often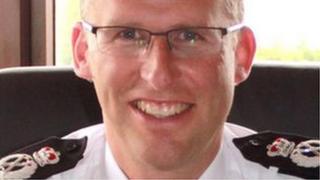 The chief constable of Leicestershire Police has said he wants to use stop and search more.
The force was criticised by the Equality and Human Rights Commission in 2010 for disproportionately using the tactic on black males.
But Simon Cole said that since then the force had more than halved its use of stop and search.
Arrests made through the technique have doubled, indicating the force is using it more effectively, he said.
'Target drug dealers'
"If we stop and search in a professional way, if we explain why it's happening and we do it in a way that's completely transparent and empathetic, I think people understand that it's an area we are working on hugely because of the focus brought on us by the human rights commission," Mr Cole said.
"We do it for a reason. We do it because we want to target people who damage the local community. We want to target the drug dealers and people who carry weapons."
But he said that "50/50 proportionality" in relation to the sex or race of people who are stopped and searched is unlikely ever to be achieved by Leicestershire Police.
Chino Cabon, from Leicester's Race Equality Centre, said that, since the tactic had been scaled back in the county, a black male was now roughly four times as likely as their white counterpart to be stopped and searched, rather than seven times more likely at the time of the report.
He said that since the Human Rights and Equality Commission report, police had used better techniques to target people to stop and search.
"Simon Cole wants to increase intrusion in people's lives in the city and the county - we need to question whether that benefits anyone," he said.
An 18-month agreement was signed in January 2011 after the Human Rights and Equality Commission found the force was unable to properly justify why it was employing the tactic disproportionately.
At the time, the commission said black people in Leicestershire were almost five times more likely to be searched than white people, with Asian people almost twice as likely.
The force has since reported an 80% drop in stop and searches - from 25,000 to 5,000 - in the three years leading up to September 2013.