Concordia Theatre to improve child protection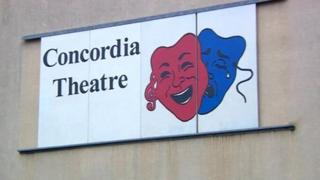 A theatre has agreed to strengthen the protection it offers to child performers after two men linked to it were arrested as part of a child sex abuse inquiry.
The men were arrested in February as part of an investigation into indecent images of children.
They had links to Concordia Theatre, in Hinckley, Leicestershire.
Three convicted child abusers with links to the theatre have also been identified by police.
Detectives said after initially raising concerns with the the theatre's management they did not get the level of co-operation they expected.
Theatre ban
However, Det Insp Rich Hiom said the theatre, which was facing a licence review, had since made "significant progress" to meet police concerns and had made some staff changes.
A spokesman for the theatre said: "We have worked very closely with all of the relevant stakeholders - including Leicestershire Police and Leicestershire County Council - to put in place a much more robust set of child protection measures, in line with their advice and guidance."
He added: "We are pleased that the authorities have recognised the work we have undertaken and we will continue to liaise closely with them to ensure that the Concordia Theatre remains a safe environment for all."
One of the new measures includes an adoption of a new safeguarding policy, to be approved by police and Leicestershire County Council, and set to be in place by 2 May.
The two men who are being investigated for possession of indecent images of children are currently on police bail.
Two other men have been banned from the theatre while a third is currently serving a prison sentence.