Zena Foster's garden in Belgrave, Leicester, destroyed by 'explosion'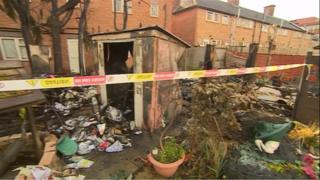 An "explosion" and fire has destroyed a Leicester woman's flower garden, which she has spent 30 years cultivating.
The fire in Belgrave cracked windows, destroyed a greenhouse and burned trees, 83-year-old Zena Foster said.
Leicestershire fire service said neighbours were evacuated after the fire, which started in a tumble dryer and tore through the garden.
Mrs Foster said the garden had "kept her going" after she was hurt in a car crash.
"It was my pride and joy. It kept me going when I was ill - I was paralysed for two years after a car accident," she said.
"Except for this garden, I couldn't have kept going at all."
She said she saw her neighbour's shed "explode" from inside her home.
"I have never seen anything like it. The trees went straight up in red and flames - straight up into the sky."
Gas bottles
The fire service confirmed no one was injured in the "fast-moving fire", which it described as accidental.
A spokesman said it was was triggered by an electrical fault in a tumble dryer inside the shed.
The fire quickly spread because of the large amount of wood in both gardens.
Residents were evacuated from nearby homes because a number of gas bottles in the neighbour's garden had overheated, the fire service added.