Gartree Prison makes changes to regime after criticism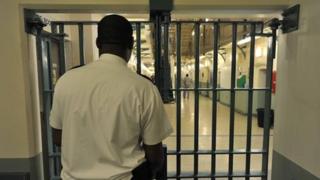 A high-security prison that was told it needed to improve has made major changes to its regime, say inspectors.
The Independent Monitoring Board (IMB) highlighted several concerns at HMP Gartree in Market Harborough in 2012.
In a fresh report, inspectors said a new management structure had seen positive changes at the prison, which houses inmates serving life sentences.
However, they still had concerns over prisoners being kept beyond their tariff date and workshops for inmates.
In the annual report for 2013, inspectors said 32 prisoners at the Leicestershire jail were being held beyond the tariff date suggested by the court.
One prisoner had been kept 25 years against an initial three-year tariff.
'Matter for judge'
The report said: "There is a moral issue concerned in holding prisoners beyond the court's suggested tariff and while we acknowledge that many of these are being held because the prisoner will not engage in coursework, there appears to be no mechanism to progress them."
A Ministry of Justice spokesman said the prisoner in question had been given a discretionary life sentence and told he must serve a minimum of three years.
He said the sentence was "entirely a matter for the judge", adding: "The release of prisoners serving life and indeterminate sentences is entirely a matter for the independent parole board, who must be satisfied that an offender can be managed safely in the community."
In 2012 the prison was criticised for poor staff attendance and reporting at sentencing, confusion over prison transfers and the lack of "meaningful" work given to prisoners during the week.
Inspectors said new management had delivered "extremely robust" change and accepted that efforts were being made to improve workshops.
They said educational activities had improved and there was now an "aggressive plan" to provide prisoners with worthwhile employment.