Seven men arrested over missing teenager Ana Simeonova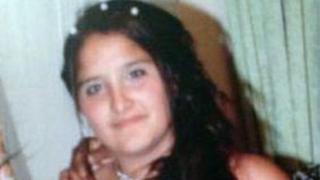 Seven men have been arrested over the disappearance of a 15-year-old girl who was last seen in Leicester.
Ana Simeonova, who arrived in the UK from Poland five weeks ago, was seen in the Lee Circle area on 25 March.
A police spokesman said: "There is no evidence to suggest that Ana has come to any harm or been a victim of crime but officers are keeping an open mind."
Two men, aged 53 and 35, remain in police custody while the other five men were released on bail.
Concerned for welfare
Insp Simon Preston, of Leicestershire Police, said: "Ana has not been seen for more than a week now and we are growing increasingly concerned for her welfare."
Ms Simeonova, who was born in Bulgaria, cannot speak or read English.
She was last seen wearing a black cardigan, black leggings with an animal print along the sides and a multi-coloured top with thin shoulder straps.
"Ana may have left home of her own accord but we're looking at the possibility that there may be third party involvement," Insp Preston said.
"That doesn't necessarily mean that we believe a crime has been committed or that she has come to harm.
"We're keeping an open mind and will follow any possible leads."