Antoin Akpom stab death accused 'ran for his life'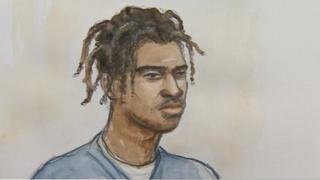 A teenager accused of stabbing a fitness coach to death has told a court he "ran for his life" after a dumb-bell was swung at his head.
Antoin Akpom died after he was stabbed in the back, in Leicester last year.
Abdul Hakim, 19, told the jury he was confronted by Mr Akpom who challenged him for "being in his area".
Mr Hakim, who with Hussain Hussain denies murder, said he only realised something had happened when he later saw blood on Mr Hussain's jacket.
CCTV footage
Earlier in the trial, at Stafford Crown Court, prosecutor Richard Latham QC said there was "some bad feeling" between Mr Akpom and Mr Hakim, of Wood Hill, Leicester, which seemed to have been going on for about a year.
CCTV footage from the Kent Street area showed Mr Akpom getting out of a car to confront Mr Hussain, of no fixed address, and Mr Hakim.
Mr Akpom is seen running towards a gym before jogging back towards the defendants, followed by a group of up to nine people, Mr Latham explained.
But the 19-year-old insisted he had never had any trouble with Mr Akpom before.
Arson attack
Mr Hakim, of Wood Hill, Leicester, told the hearing he feared he would be seriously injured when Mr Akpom came at him with the men and the dumb-bell was swung at his head.
He told the jury he put up his arms and ducked, then "ran for his life".
Once the pair got to the nearby St Matthews estate, Mr Hakim said he noticed Mr Hussain had blood on his jacket and Mr Hussain admitted he had stabbed Mr Akpom because he was getting attacked.
Mr Hakim was then asked by his defence team whether, on the day of the stabbing, he had a weapon, knew Mr Hussain had a weapon or was involved in murdering Mr Akpom.
To each question he answered "No".
The jury was previously told that hours after the stabbing, an arson attack took place on a house two doors away from Mr Hakim's family home, resulting in four deaths.
The case continues.