Rutland hit by second earthquake in two days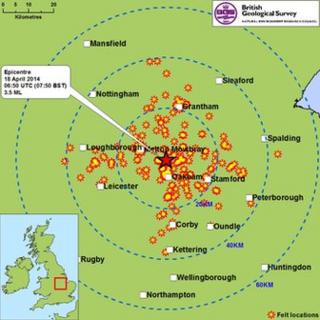 Another earthquake has shaken the Rutland town of Oakham, experts have confirmed.
The British Geological Survey (BGS) said early information showed a tremor of 3.5 magnitude just north of Oakham at about 07:50 BST.
On Thursday, residents in and around Oakham were woken by a tremor of 3.2 magnitude just after 07:00 BST.
The BGS said it had received more than 200 reports after Friday's tremor and was gathering more information.
There are no reports of any damage or injuries.
A map of locations where the tremor was reported shows people in Nottinghamshire and Lincolnshire felt the earthquake.
'Something bigger?'
Oakham resident Andrew McCombe, who has felt both earthquakes, said: "We seem to have quite a few shakes around here.
"We had one four years ago that was quite bad - it sounded like a loud train rumbling and then a loud roar.
"There was a lot of shaking [today] and it lasted a little longer, it felt a bit like standing right next to a tumble drier.
"As this one was stronger than yesterday, I just wonder what will happen next? You do wonder if these little tremors are leading up to something bigger."
John Kennedy tweeted: "Oakham rock again! 2nd earthquake in two days. Will we get a third?"
BBC Radio Nottingham received a text message from a listener in Colwick saying she had felt the tremor, about 32 miles (51km) from Oakham.
Glen Ford from the BGS, said: "This one is particularly large, we don't get many of that size in the UK.
"It's unusual we've had another one so close after the one yesterday - 3.2 and 3.5 magnitude.
"Today's is actually about three times larger than the one yesterday," he said.
On Thursday, Suzanne Sergeant, from BGS, said earthquakes were not "uncommon in the UK".
She added: "They occur as a result of the adjustments the geological structures make to the wider stresses that the UK experiences.
"Although we are not close to any plate boundaries we experience a slight squeezing as a result of the mid Atlantic ridge and the pressures that are put on the fault."
The largest-known British earthquake occurred under the sea near Dogger Bank in 1931, with a magnitude of 6.1.
BGS said the UK was expected to experience a magnitude 5 earthquake about every 10 to 20 years.