Jurors shown CCTV of Leicester fire that killed Taufiq family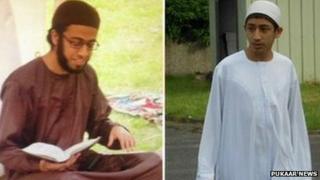 Jurors have been shown CCTV footage of the moment a fire started in an alleged revenge attack on the wrong house, killing a woman and her three children.
The footage shows eight figures walking towards the house in Leicester, and three figures running away after the fire starts.
Seven men and a youth have gone on trial over the fire on 13 September.
They deny murdering Shehnila Taufiq, 47, daughter Zainab, 19, and sons Bilal, 17, and Jamal, 15.
The prosecution claims the group meant to target the mother of a man they believed had stabbed Antoin Akpom, a friend of theirs, just hours before.
However, the mother lived two doors away from the Taufiq family in Wood Hill, in the Spinney Hill area of Leicester.
Opening the case at Nottingham Crown Court on Wednesday, prosecutor Richard Latham QC said the family were trapped upstairs after petrol was poured through the letterbox and lit.
Mr Latham said it caused "one of the worst domestic fires" one fireman had witnessed in 15 years.
The family's father, Dr Muhammad Taufiq Al Sattar - a paediatric neurosurgeon - was working away in Dublin on the night of the fire.
The defendants who deny murder are:
Kemo Porter, 19, of Browning Street, Leicester
Tristan Richards, 22, of Sparkenhoe Street, Leicester
Nathaniel Mullings, 19, of Farringdon Street, Northfield, Leicester
Shaun Carter, 24, of Franche Road, Leicester
Jackson Powell, 20, of Burnside Road, Leicester
Aaron Webb, 20, Saltersford Road, Leicester
Akeem Jeffers, 21, of Carr Mills, Buslingthorpe, Leeds
A 17-year-old youth, who cannot be named for legal reasons, from Leicester
Mr Akpom, 20, died in hospital after suffering a collapsed lung due to the stabbing.
Earlier this month 19-year-old Hussain Hussain was jailed for a minimum of 15 years for murdering him.
The jury failed to reach a verdict in the case of his co-accused Abdul Hakim, 19.
The trial over the fire is expected to last up to eight weeks.