Leicester woman's 'shock' as 'e-cig explodes' in car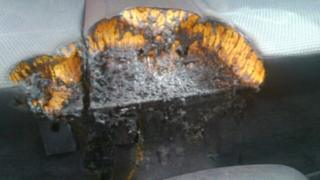 A Leicester woman claims her e-cigarette and car charger adapter exploded while it was recharging, creating a "two-foot flame".
Kim Taylor, from the Aylestone area, believes the fire started because she used a different make of adapter.
She said there was a lack of instructions for using the kit.
The fire service has warned that the battery could explode during recharging because there was "no safety cut-off" stopping them from overheating.
'Black smoke shock'
The 54-year-old mother said the e-cigarette, which was plugged into a car charger of a different brand, was recharging for about 20 minutes before the device exploded.
"I opened the driver's door and a load of black smoke came out, I was shocked," Ms Taylor said.
"I looked inside the car and the back seat was alight, about a two-foot flame, so I ran back into the house and got a bowl of water and put it out.
"Luckily the car was parked up and no-one was inside at the time."
Ms Taylor added that the e-cigarette kit she brought from a petrol station lacked instructions and she has since contacted trading standards about her concerns.
"I don't want anybody else to make the same mistake as I did," she said.
Station Manager Dave Watson, from Leicestershire Fire and Rescue Service, said: "There seems to be no safety cut-off mechanism, which prevents them from over heating during charging - causing the battery to overheat and explode."