Leicester fire death jury taken to house where Taufiq family died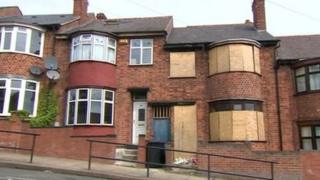 Jurors have been taken to a house in which a woman and her three children were killed in a blaze last year.
Judge, jury and officials went to Wood Hill, in Leicester where Shehnila Taufiq, 47, daughter Zainab, 19, and sons Bilal, 17, and Jamal, 15, died.
Seven men and a youth are accused of murdering the family.
The jury was previously told the fire was a revenge attack on the wrong house for the stabbing of Antoin Akpom - they later saw the site of his murder.
The prosecution claims a gang drove past the house on 13 September, without headlights on, before parking around the corner.
They then walked up to the property, poured petrol through the letter box, lit it and ran off, trapping the family upstairs, the court heard.
On Monday morning, a convoy of vehicles took the jury from Nottingham Crown Court to the house, which remains boarded up.
They were also shown the house two doors along the street which the prosecution says was the intended target.
The jurors were later taken to Kent Street, where Mr Akpom was stabbed to death just five hours before the fire started.
It is alleged the eight accused, who all deny murder, started the blaze in retaliation for his death.
They are:
Kemo Porter, 19, of Browning Street, Leicester
Tristan Richards, 22, of Sparkenhoe Street, Leicester
Nathaniel Mullings, 19, of Farringdon Street, Northfield, Leicester
Shaun Carter, 24, of Franche Road, Leicester
Jackson Powell, 20, of Burnside Road, Leicester
Aaron Webb, 20, Saltersford Road, Leicester
Akeem Jeffers, 21, of Carr Mills, Buslingthorpe, Leeds
A 17-year-old youth, who cannot be named for legal reasons, from Leicester
Earlier this month, 19-year-old Hussain Hussain was jailed for a minimum of 15 years for Mr Akpom's murder.
The jury failed to reach a verdict in the case of his co-accused Abdul Hakim, 19.
The trial over the fire is expected to last up to eight weeks.