Leicester fire death father's pain over losing 'beautiful family'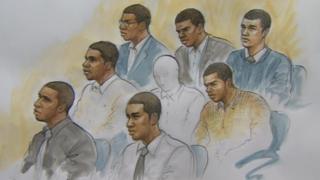 A man whose wife and three children were killed in an arson attack has said words cannot express the pain he is suffering.
A statement from Muhammad Taufiq Al Sattar was read out at the trial of eight defendants charged with murder.
They are alleged to have targeted the house in Leicester in revenge for the fatal stabbing of their friend Antoin Akpom five hours earlier.
But the prosecution claims they set fire to the wrong house.
Dr Taufiq Al Sattar was working in Dublin on the night his family died, but said he spoke to each of them an hour or so before the fire.
The paediatric neurosurgeon said in his statement: "Words cannot begin to express the pain I'm suffering since I lost my beautiful family.
"I feel all alone in the world.
"My Muslim faith is keeping me going."
He said his family had been happy with full lives.
His wife Shehnila Taufiq, 47, was very active in the community and well liked, he said.
His daughter Zainab, 19, wanted to be a primary school teacher and was due to take her driving test that month.
His eldest son Bilal, 17, was very clever, studying Islamic theology, and was gifted in computers and IT, his father said.
Jamal, 15, had just started his last year of GCSEs and enjoyed playing football with his friends.
Neighbours told Nottingham Crown Court how they tried to raise the attention of the family inside the burning house by screaming and shouting.
Some said they heard footsteps running away as the fire broke out on 13 September. One neighbour said they saw a person running down the hill.
The eight accused, who all deny murder, are:
Kemo Porter, 19, of Browning Street, Leicester
Tristan Richards, 22, of Sparkenhoe Street, Leicester
Nathaniel Mullings, 19, of Farringdon Street, Northfield, Leicester
Shaun Carter, 24, of Franche Road, Leicester
Jackson Powell, 20, of Burnside Road, Leicester
Aaron Webb, 20, Saltersford Road, Leicester
Akeem Jeffers, 21, of Carr Mills, Buslingthorpe, Leeds
A 17-year-old youth, who cannot be named for legal reasons, from Leicester
Earlier this month, 19-year-old Hussain Hussain was jailed for a minimum of 15 years for Mr Akpom's murder.
The jury failed to reach a verdict in the case of his co-accused Abdul Hakim, 19.
The trial over the fire is expected to last up to eight weeks.