Leicester's eco-homes build is 'Europe's biggest' project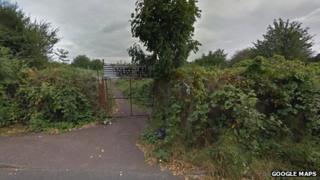 Up to 13 acres of derelict land in Leicester is to be developed for what is claimed to be "Europe's biggest eco-housing project".
The city council has sold a former allotment site believed to be worth £1.5m for £1 to local charity, the Saffron Lane Neighbourhood Council.
It is hoped that 50 energy efficient houses can be built on the land.
City mayor Sir Peter Soulsby said the project would attract almost £7m investment to the city.
Neil Hodgkin, senior development worker for the charity, said the homes would be "passive houses" using less energy to heat than an average house and saving occupants up to 80% on heating bills.
'Much needed investment'
"This is going to be the biggest eco-housing project in Europe at this moment in time," he said.
"It is going to help people struggling to pay heating bills, those on the council waiting list and help the environment at the same time."
He said money for the project had come from government funding and from housing groups.
In the last three years the council has sold an old tram depot and two more of its buildings to community groups or charities for £1.
Sir Peter added: "What we are getting here is a much needed investment in the city at a time when frankly we can't afford to do it ourselves.
"At one time the council would have built council houses but we can't anymore because there just isn't the cash or the powers to do it.
"So what we are doing is using our assets and our buildings much more creatively and enabling community groups to do it."
Work is expected to start on the land off Heathcott Road in November with completion by 2016.