Teenager Ben O'Neill has pioneering surgery for swollen heart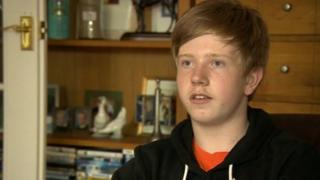 A teenager has become the first person to have a pioneering heart operation.
Ben O'Neill, 14, of Loughborough, Leicestershire, has a congenital heart defect and had already undergone open heart surgery three times before his heart swelled to twice its size.
Twenty doctors and nurses at Leicester's Glenfield Hospital performed a keyhole procedure to insert a stent and valve into his heart.
Ben said despite being a "guinea pig", the surgery had been a "life-changer".
He was told by doctors earlier this year to give up playing cricket and tennis because he was getting short of breath.
He was told he would need urgent treatment after the right side of his heart became swollen.
The five-hour procedure took place in March. The stent and valve are expected to last 10 years, after which Ben will need one final operation.
'Full, long life'
Ben said: "Straight away I noticed a change in my heart beat.
"Sports have become a lot easier. I have noticed that climbing up stairs I get a lot less breathless.
"The surgery has been a massive life-changer."
His parents Sean and Rebecca O'Neill said knowing he was the first person to receive the treatment was "scary" but they knew he was "getting the best possible care".
Mr O'Neill said worries the couple had had since Ben was born had now gone.
"Now he can live a full, long life doing all the things he has dreamed of," he said.
"They [doctors] have given us the rest of our son's life. We can't thank them enough."
Cardiologist Dr Frances Bu'Lock said: "Ben is the first person anywhere in the world to have this specific type of procedure performed this way.
"It was a real team effort and we're very pleased to hear how much of an improvement Ben has noticed since his procedure."
She said carrying out a fourth open heart operation on Ben would have carried a very high risk of death or heart muscle damage.