Leicestershire councillor Tony Kershaw suspended after assault charge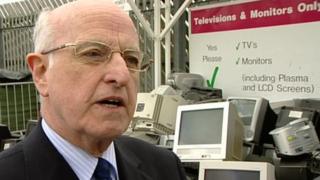 A senior county councillor has been suspended from the Conservative Party after being charged with assault.
Councillor Tony Kershaw was suspended from Leicestershire's Conservative Group on Friday with immediate effect and "without prejudice".
Mr Kershaw, a former chairman of the county council, has represented the Quorn and Barrow division for 12 years.
Party leader Nick Rushton said it was important for Mr Kershaw to deal with the matters outside of the group.
Mr Kershaw was formally charged with common assault on Friday.
He is currently chairman of the council's environment and transport scrutiny committee and had previously sat as the cabinet member for waste.
In a statement, Mr Rushton, said: "Tony's suspension from the group is without prejudice and will allow him the space and time he needs to fight the case against him.
"I am a firm believer in innocence until proven guilty and I know that Tony understands it is important these matters are dealt with outside of the conservative group."