Richard III 'short' premieres at Cannes Film Festival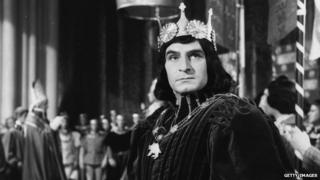 A film featuring the discovery of the remains of King Richard lll in a council car park in Leicester has premiered at the Cannes Film Festival.
Finding Richard tells the story of a young boy, Gull, who sets off on a quest of his own after being inspired by the search for the king.
Leicester-based director Rhys Davies co-wrote the short film along with producer Douglas Cubin.
He said the 10-minute film paid homage to "dreamers everywhere".
Richard was killed in battle in 1485, an event which ended the bloody civil war known as the Wars of the Roses.
The royal family which defeated him, the Tudors, ensured he was remembered as a black-hearted villain, capable of killing family and friends.
But Plantagenet enthusiasts have worked tirelessly to rescue Richard's battered reputation - and recover his lost remains.
Mr Davies said the film was about "staying true to yourself and following your own path".
Mr Davies added he hoped the film, which stars Colin Baker, of Doctor Who fame, and Leicestershire schoolboy comedian David Knight, who appeared on Britain's Got Talent, would help to attract more visitors to Leicester, where it was shot.
It premiered at Cannes on Friday and will also be shown at the city's Guildhall on 25 May.
A permanent exhibition housed in a newly-created King Richard lll Visitor Centre is expected to open later this year.