Leicester fire deaths: Teenager admits telling 'numerous lies'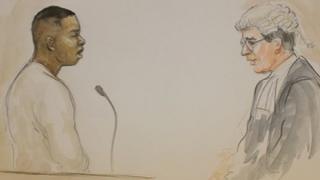 A man accused of murdering four members of a family in a botched arson attack has admitted telling "numerous lies".
Nathaniel Mullings, 19, is the third defendant to give evidence in the trial of seven men and one teenager accused of starting the fire in Leicester.
He has denied starting the blaze but said lying in police interviews had been "cowardly and stupid".
Shehnila Taufiq, 47, daughter Zainab, 19, and sons Bilal, 17, and Jamal, 15, died in the fire on 13 September 2013.
During questioning at Nottingham Crown Court, defence barrister Dias Dexter QC called his client to the witness box to "face the music".
He asked Mr Mullings of Farringdon Street, Leicester, whether he had told the truth during two days of questioning by police.
Wrong house
"I told numerous lies," he replied.
"It was a cowardly and stupid thing to do but I felt in these circumstances I had to lie."
When asked whether he had known of plans to firebomb the house, he said: "I know there was a plan to smash up the property with bricks.
"At no time did I agree to burn down this house."
Previously the jury was told the group had meant to target the house of a man they believed had stabbed and killed their friend Antoin Akpom earlier that night.
However, the men got the wrong house.
CCTV footage has also been shown during the trial, of eight people approaching the house and three running away once the fire starts.
Mr Mulllings admitted he could be seen on CCTV disposing of a petrol can after the fire but said it had nothing to do with the blaze.
"It had been in my boot for several days as a precaution," he said.
The other seven defendants accused are:
Kemo Porter, 19, Browning Street, Leicester
Tristan Richards, 22, Sparkenhoe Street, Leicester
Shaun Carter, 24, of Franche Road, Leicester
Jackson Powell, 20, of Burnside Road, Leicester
Aaron Webb, 20, Saltersford Road, Leicester
Akeem Jeffers, 21, of Carr Mills, Buslingthorpe, Leeds
A 17-year-old youth, from Leicester, who cannot be named because of his age
All eight deny murder. The trial continues.