Leicestershire's MIRA enterprise zone awarded £7m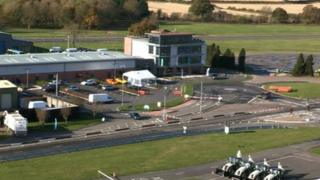 A Leicestershire technology park has been awarded £7.5m to help it grow as an "enterprise zone".
Local growth minister Kris Hopkins visited the site in Hinckley, Leicestershire on Wednesday to announce £23m was being handed to four areas.
Other sites to benefit from the money will be in Bristol, Manchester and Great Yarmouth.
Mr Hopkins said the cash would fund the construction of roads, buildings and new sites across England.
'Build success'
MIRA Technology Park in Hinckley, home to a specialist vehicle testing and research company, has been awarded the cash to improve access to the site.
Chief executive George Gillespie said he hoped the money would also help create 2,500 jobs within the next seven years.
"We are delighted to be receiving this funding, which will help us to create more jobs within the immediate area and continue to build on the success of the park," he added.
"The funding will also enable us to continue to create a centre of excellence, maintaining our position as the heart of Europe's automotive research and development community."
Enterprise zones were introduced by the government in the UK in 2011 and it is claimed they have since created 9,000 jobs and attracted £1.2bn private sector investment.
Mr Hopkins said: "Enterprise Zones are showing that our long term economic plan to secure a better future is spreading businesses, jobs and skills training across the country.
"Today's cash injection will give four zones the raw ingredients to make their sites a stronger, more competitive business environment that will attract new jobs for hardworking local people."
Bristol's Temple Quarter enterprise zone has been handed £6m, while Manchester's site has also been awarded £6m to help attract healthcare and medical technology companies.
The fourth site at Beacon Park in Great Yarmouth has been awarded £3m to create office and industrial units for energy companies.