Mallory Park race circuit noise limits agreed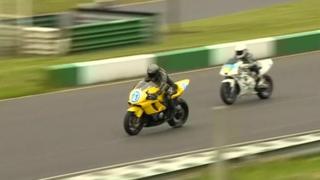 A new agreement has been reached over noise levels at a Leicestershire race circuit.
People living in Kirkby Mallory, near Mallory Park, have long complained that the circuit was too loud, too often.
Hinckley and Bosworth Borough Council said the agreement with the new owners would give residents a break between "noisy days".
An elected representative for a village group campaigning against noise from the circuit refused to comment.
'Noise levels monitored'
From January, new operators Real Motorsport Limited (RML) will be allowed 92 noisy days a year, with noise levels not exceeding 105dB, the same number as under a 1985 enforcement notice.
But the number of lower noise days (less than 55dB) has been cut from 104 a year to 20.
There must also be one full quiet weekend each month. Previously, villagers complained of high levels of noise every Sunday during summer.
Steve Atkinson, council chief executive, said: "The 2015 notice will allow people in the village to have far more respite between noisy days.
"There will be lower noise levels and less weekend events, which have been the issue in the past.
"The number of noisy days and noise levels will be measured by trackside monitoring equipment."
Mr Atkinson said since Mallory Park reopened in March, RML had "complied with its principles" without a formal notice, an arrangement which will continue for the the rest of the year.
Stuart Hicken, part-owner of RML and a former racer, said: "We are happy to work with this notice and... hopefully the work we are doing in reducing the noise to the village will help when we revisit the notice at a later date."
Last year, the previous operators went into liquidation after a legal battle over noise levels.
The 2015 notice was subject to a marginal change which would be discussed in September.