Leicester Royal Infirmary to end parking 'havoc' with multi-storey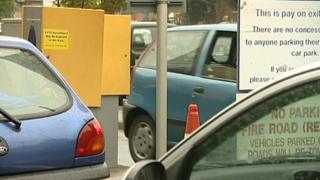 A Leicester hospital could soon have a multi-storey car park on site after a decade of problems.
Patients and visitors to Leicester Royal Infirmary (LRI) have spent years complaining about a lack of spaces and it being too congested.
One cancer patient told the BBC finding a space was "a bigger chore" than radiation treatment.
The hospital said plans were in place to build a larger car park within 18 months.
Patient, Mickey Bell called the situation "horrendous".
"There is a park and ride but that terminates at Clock Tower. Walking to the appointment is fine but walking back after [radiation] treatment is a strain."
'Caused havoc'
Other patients say they have missed appointments and another claimed he had to give up his job after setting aside an hour on either side of a 10 minute appointment just to get in and out the car park.
Campaigner Zuffar Haq said parking has "caused havoc" for a decade.
In 2004 he collected a petition with 10,000 signatures calling for more spaces.
"The hospital has failed in providing adequate parking for patients," he added.
"It is OK to charge a little bit more but they haven't delivered in promises of more spaces. It has gone on far too long."
Mr Haq said plans for a multi-storey car park had been submitted and approved three times since his petition.
Leicester City Council said it is "actively considering" introducing a park and ride stop at the hospital.
Director of communications at the hospital, Mark Whiteman, said the long delays had continued because the hospital had prioritised spending money on extra nurses and improving medical facilities instead.
He confirmed a private investor was being now sought for the project before work could start.