Leicester's Diwali celebrations to be 'bigger and better'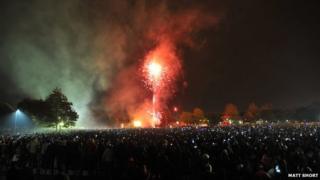 Leicester's Diwali celebrations could soon be much "bigger and better", according to the city's assistant mayor.
The city has become renown for its annual celebration of the Indian light festival, which is said to be the largest outside India.
Arts Council England has awarded the city council £6,000 to investigate how future Diwali events could be improved.
Councillor Manjula Sood said younger people in the city wanted a change.
Each year the festival has been marked with entertainment and fireworks in Cossington Recreation Ground.
'Good impression'
"Diwali is celebrated in many places but Leicester has one of the biggest outside of India and we want to make it bigger and more vibrant," said Ms Sood.
"The younger generation now want a different sort of entertainment so with this report we will be able to find out what they want.
"We have to take on board their vision and ideas of how Diwali should be celebrated."
She said she believed the funding had been awarded following a visit from Arts Council chairman Sir Peter Bazalgette during Leicester's recent bid to become City of Culture 2017.
"He was very impressed with Diwali so I'm sure he must have gone with a good impression and understanding of how we can improve," added Ms Sood.