King Richard III Visitor Centre set to open in July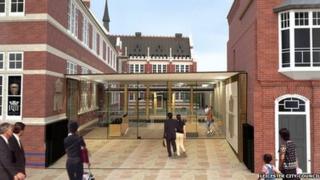 A £4m visitor centre dedicated to Richard III, whose remains were found underneath a Leicester car park, will open on 26 July, it has been announced.
The new King Richard III Visitor Centre, on Peacock Lane, will replace a temporary exhibition at the Guildhall.
The museum will tell the story of the king's life, his brutal death and his rediscovery more than 500 years later.
Last month, a High Court ruled his remains, found in 2012, would be reburied at Leicester Cathedral.
'Economy boost'
The cathedral was lined up for his tomb after a skeleton was identified as the king by experts, but some wanted him reburied in York.
In January, the plans were unveiled for the centre, which will see the old Leicester Grammar School building transformed.
Centre director Ian Gordon said the new exhibition would be up to "five times larger and more in-depth" than the current one at the Guildhall.
Martyn Traynor, chairman of the Visitor Centre Trust, said it would give the city an economic boost and are expecting about 120,000 visitors within the first year.
"Leisure and tourism in Leicester and Leicestershire is worth more than £1.4bn a year, if Richard III centre could increase that by 1% that's an extra £14m a year into the city's economy," he said.
The Guildhall temporary tourist attraction has had more than 200,000 visitors since it opened in February 2013, with about 3,000 in its first three days.