Leicester fire deaths: Murder accused was at fire scene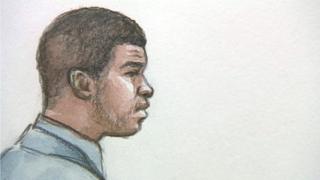 A man accused of murdering four family members in an arson attack has admitted being at the scene when the fire was started.
Akeem Jeffers, 21, told jurors a van blocked his view, preventing him from seeing who started the fire.
He is accused along with six others of carrying out the attack on a house in Wood Hill, Leicester, on 13 September.
Shehnila Taufiq, 47, her daughter Zainab, 19, and sons Bilal, 17, and Jamal, 15 died in the blaze.
'Sick to my stomach'
Earlier in the trial one of the defendants told Nottingham Crown Court there was a plan just to "brick" the family home of a man they believed had been involved in the fatal stabbing of their friend, Antoin Akpom, earlier that day.
Mr Jeffers, who is from Leicester but lives in Leeds where he is studying, denied knowing about the plan but admitted being in Wood Hill at the time of the fire.
He did not realise until the day after how serious the fire had been, the court heard.
He told the jury: "I felt sick to my stomach. I couldn't believe it. I was devastated that four innocent people had died."
When asked why he did not tell the police he had valuable information, he replied: "I was petrified, scared and didn't want to tell the police I was there."
Mr Jeffers, of Carr Mills in Buslingthorpe, Leeds, was arrested two weeks after the fire at Leeds Met University, where he was doing a business degree.
The other seven defendants are:
Kemo Porter, 19, of Browning Street, Leicester
Tristan Richards, 22, of Sparkenhoe Street, Leicester
Nathaniel Mullings, 19, of Farringdon Street, Northfield, Leicester
Shaun Carter, 24, of Franche Road, Leicester
Aaron Webb, 20, Saltersford Road, Leicester
Jackson Powell, 20, of Burnside Road, Leicester
A 17-year-old youth, from Leicester, who cannot be named for legal reasons
All eight deny murder. The trial continues.