Queen's Birthday Honours: Robert Constable-Maxwell appointed MBE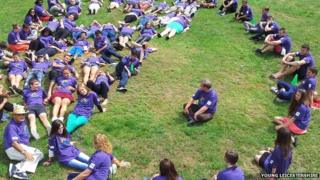 A man who has been involved with a young people's charity for 30 years has been recognised in the Queen's Birthday Honours list.
Robert Constable-Maxwell, 80, from Lutterworth, has been appointed MBE for services to the Leicestershire Clubs for Young People (LCYP).
Mr Constable-Maxwell, chair of the organisation since 1984, operates 11 clubs in Leicestershire.
He said he was "extremely delighted and surprised" by the honour.
'Lovely endorsement'
LCYP, now known as Young Leicestershire, offers young people the opportunity to do activities such as football, table tennis, music, computers, arts and crafts.
They can also join an annual 100-mile canoe event.
Mr Constable-Maxwell said: "The clubs give children the opportunity to develop skills and an environment to flourish."
He added that his MBE was a "lovely endorsement" for his work with young people.
Since 1975, Mr Constable-Maxwell has been an active member of the Royal British Legion, and is chair of the Husbands, Bosworth and District Branch.
Dr John Ernest Dunford, OBE, an education consultant from Leicestershire, has been knighted for services to education.
Ms Deborah Jean Walker, a West Midlands police inspector, also from Leicestershire, has been appointed MBE for her work with a drug interventions programme.