Leicester bus users criticise 'too high' timetables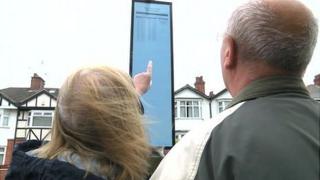 Timetables placed as much as 10ft (3.1m) off the ground have been criticised by bus users in Leicester.
Dozens of new information boards have been fitted in the past two weeks by the city council.
But where some lamp posts are also used as bus stops, the wider base has meant the timetables have been placed too high to read.
The authority apologised and said contractors were being sent out to lower the boards.
New timetables were put up as part of a government backed scheme to improve information for those using public transport.
'Wrong shape'
Commuters waiting at the Dumbleton Avenue stop said the situation was "ridiculous" and "a waste of money".
Terry Kirby, from the Leicester branch of the Campaign for Better Transport, said: "I don't think they have thought it through at all.
"It is difficult to understand why they could not have made a way to fit it further down to make it easier to see.
"The principle is good but they have just not thought it through."
A council spokesman said: "The cases, funded by the Department for Transport to improve bus information for passengers, are designed to fit neatly onto bespoke bus stop poles.
"In a handful of locations around the city however, including the Dumbleton Avenue stop, lamp posts double as bus stops.
"Because of the shape of the lamp post, these information cases had to be fixed far too high up to be of use.
"Now that we're aware of the problem, we'll be asking our contractor to find a solution, so that the cases can be displayed in the proper way - and at the proper height."