Leicestershire and Rutland health care overhaul plan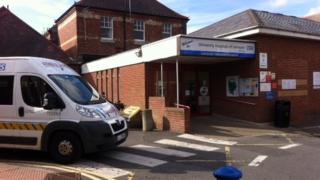 A major shake-up of health services in Leicestershire and Rutland is "vital" to avoid a £400m funding shortfall, health leaders say.
The Better Care Together plan proposes cutting acute hospital care from three to two sites in Leicester, reducing the number of overall hospital beds.
More reliance on community-based services will produce a more efficient health service, officials say.
But there are concerns there may not be enough GPs to support the plan.
'Financial pressures'
The transfer of more acute services to the Royal Infirmary and Glenfield Hospital in Leicester will mean the city's General Hospital would be used for diabetes care, rehabilitation, psychological therapies and outpatient clinics.
The five-year plan, which will be open to consultation, also calls for the redevelopment of an emergency floor at the Royal Infirmary and the creation of a new "cutting-edge cardiovascular and renal service" at Glenfield Hospital.
"The overall aim is for organisations to work together to provide more community-based support for patients to live at home - so reducing the risk of serious illness requiring admission to hospital," the report said.
Professor Azhar Farooqi, of the Leicester City Clinical Commissioning Group and a local GP, said: "The case for change is compelling. The financial pressures give us a real opportunity to make improvements for our patients by doing things differently."
Chief executive of University Hospitals Trust of Leicester John Adler said financial pressures meant the local NHS funding gap will reach almost £400m in five years.
The plan is expected to result in fewer hospital beds and a smaller workforce, but the exact number of job cuts is "not yet clear", the report said.
"It is not simply a matter of dumping our work on our primary care colleagues - it is our specialists working in an integrated way with GPs and primary care providers."
But GP and county councillor Dr Terri Eynon said that, while the changes were "important", falling numbers of GPs in Leicestershire meant there may not be enough doctors to support increased care in the community.
"The proposals are excellent, the aspirations are superb. Who can complain? But how are we going to make this happen?" she said.
The capital costs of the changes are expected to reach £320m, with most of the funding from national grants.