Explosion cuts power to homes in Leicester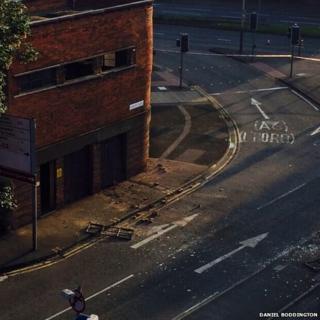 About 300 homes are without power following an explosion at an electricity substation in Leicester.
Fire crews put out a blaze at the site in the Sanvey Gate area of the city after the explosion was heard at about 02:00 BST.
Police have set up an exclusion zone and nearby roads including the A6 St Margaret's Way, have been closed.
Western Power said the building was structurally unsafe and power could not be restored until it was safe to enter.
A spokesman for the company said he hoped engineers would be able to enter the building at some point on Monday afternoon.
'Bulging, dangerous walls'
Leicestershire Fire and Rescue said part of the 40-year-old substation would need to be demolished.
A BBC reporter at the scene described seeing debris strewn across the road and a large crack down one side of the building.
Colin Randle, distribution manager for Western Power, blamed a "component failure" for causing the explosion, which he said had made the building unstable.
Engineers have been working with emergency services throughout the day to make the site safe.
Chris Moore, from Leicester City Council's buildings control team, said the work to restore power had been delayed.
He said: "Work has stopped at the moment, we've taken out the bulging, dangerous walls caused by the explosion.
"We need to take the concrete roof down for which we need some more specialist equipment to come to site to actually break the roof."
Geoff Giles, from Nedis UK, an electronics wholesaler located in Sanvey Gate, said he did not expect power to return until Tuesday.
He said: "Without power we can't do anything. I'm relieved I wasn't in the building when the substation went up, it could have been a far lot worse."