Melton Mowbray sewer blocked by hundreds of tennis balls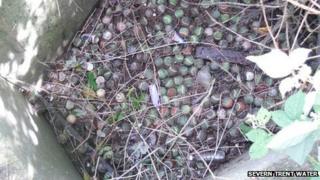 A sewer became blocked and almost backed up when hundreds of tennis balls were flushed into the drains.
Engineers from Severn Trent Water were called out to Melton Mowbray, Leicestershire, because the rain water could not enter the system and was causing flooding.
They were shocked to discover the cause was hundreds of tennis balls with waste threatening to spill into the area.
Experts are still puzzled how or why anyone managed to flush so many balls.
Wimbledon
The balls had blocked an outfall grate where surface water runs off into the sewer system in the Dalby Road area of the town.
During heavy rain last week, neighbours noticed flooding and reported it to Severn Trent Water
Scott Burgin, sewerage network manager said with Wimbledon in its second week it was a timely reminder not to put things down the toilet.
"We expect sewers to get blocked with fats or baby wipes, but not tennis balls," he added.
"How on earth people have managed to flush quite so many, I don't know, but this is just one example of amazing things we find blocking the sewers."
Staff cleared the blockage by climbing into the sewer and using their hands and shovels.
The number of sewer blockages in Leicestershire increased by 97% between November 2013 and March 2014, almost doubling the number of callouts for Severn Trent engineers.
The firm said about three-quarters of all the blockages were caused by people flushing away things they should not, such as nappies, baby wipes - and tennis balls.