Leicester General Hospital bans showers over Legionella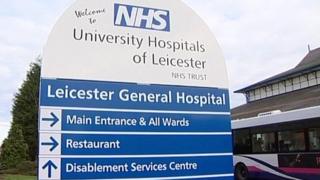 Patients on two wards at Leicester General Hospital have been stopped from taking showers after Legionella bacteria was found in its water system.
University Hospitals of Leicester (UHL) said bottled water was also being provided to people on wards 28 and 29.
The hospital added there were "no known cases of infection" linked to the water supply and the "measures taken are precautionary".
The bacteria can cause Legionnaires' disease, which causes severe pneumonia.
People become infected with the bacteria by inhaling contaminated water droplets.
The bug was found as part of the hospital's routine safety checks, which includes testing its water supplies on all wards for Legionella bacteria.
David Jenkins, a consultant medical microbiologist and deputy director of infection prevention and control at UHL, said: "Recent tests on wards 28 and 29 at Leicester General Hospital have triggered our safety plan.
"Showers on these wards will be out of use until further notice and... bottled drinking water will also be provided for patients and staff.
"The risk of Legionnaires' disease for our patients remains low and they are safe.
"The measures being taken are precautionary and there are no known cases of infection linked to this incident."
Dr Jenkins added people were regularly "exposed to Legionella in their shower at home" without it being a problem.
There are up to 400 cases of Legionnaires' disease reported a year in England and Wales.