Electrical fault causes Leicester substation fire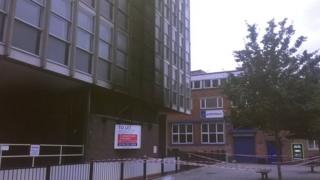 A fire at a Leicester substation which caused 260 homes to be left without power was due to an electrical fault.
Firefighters were called to the substation, located inside a disused office block on Millstone Lane, at about 22:00 BST on Thursday.
Leicestershire Fire and Rescue Service said the fire was caused by a fault with the electrical switch gear in the electrical transformer.
Electricity has been restored to the homes. No-one was hurt.
On 30 June, about 300 homes were without power after an explosion at another electricity substation in the Sanvey Gate area of the city.
Colin Randle, distribution manager for Western Power, blamed a "component failure" for causing that explosion.
In a statement about the latest substation fire, the energy provider said: "The cause of the incident is being investigated, but it is believed that it was caused by the failure of a cable component in the substation.
"It is not thought to be linked to the incident a couple of weeks ago.
"Once the outcome of the investigation is known, we will be able to determine whether any further actions are required."
It added that the equipment at the Millstone Lane substation had been inspected within the last 12 months and "no problems were identified".