Leicestershire libraries plea for volunteers to sign up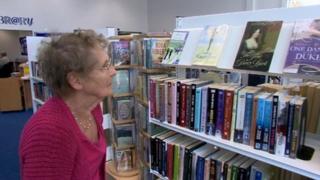 Library users in Leicestershire have been told their libraries could close unless volunteers come forward to help run them.
Leicestershire County Council has proposed to remove staff from 36 of its libraries in the region and has asked members of the public to take over.
This forms part of the authority's bid to save up to £800,000 a year from its £5.6m library budget.
Councillor Michael Mullaney said he hoped enough volunteers could be found.
One library user, who wanted to remain anonymous, said her nearest library in Barwell, which is threatened with closure, was "the main thing" in her life.
Another told the BBC he would consider becoming a volunteer but would need more details before making the commitment.
'Must keep services'
Mr Mullaney, a Liberal Democrat councillor for Hinckley and Bosworth, has taken a petition from Barwell residents to county hall.
"If volunteers can be found that's brilliant," he said.
"But it is important that we keep these services... we need to have a fallback position where the council will step in and provide professional library services."
Leicestershire County Council will continue to run 16 of the region's busiest libraries.
Councillor Richard Blunt, cabinet member for libraries, said: "We need to save money, but we are trying to do that in a way that allows the libraries to remain open.
"We do realise it is a considerable ask of the community to come and work with us to maintain the local library but we know this has worked elsewhere in the country."
He said the council understood people valued their libraries and wanted them to continue as "community hubs".
The authority's public consultation on library service changes ended earlier this month and a report is due to go to cabinet in September.