Joe Orton award: Family looks for 'lost' statuette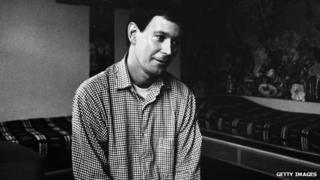 A bronze statuette awarded to Leicester playwright Joe Orton in 1966 has gone missing, according to his family.
The London Evening Standard award for best play was loaned to the New Walk Museum in 2007 but was not returned, his sister Leonie Orton-Barnett said.
Orton, who won the award for his play Loot, was murdered by his partner Kenneth Halliwell in August 1967.
The city council said records from the time were incomplete so it could not confirm the items had been collected.
Internal investigation
"He'd come from a long way - the streets of Saffron Lane to become an internationally famous playwright and he beat Harold Pinter to that Evening Standard award in 1966," she said.
"He was really pleased to receive it."
She said the collection was "all over the place" when she went to pick it up after the 2007 exhibition.
"It was in a store cupboard, upstairs in the framing room - they hadn't got it together for me to collect."
Leicester City Council said it was only contacted by the family about the statuette, and a 1960s suitcase which also formed part of the exhibition, six years after the exhibition had finished.
Ms Orton-Barnett said she had not contacted the council sooner because of personal reasons including the long-term illness of her partner.
A council statement said an internal investigation showed records from the time were incomplete and staff had since left.
"Like all accredited museums, we maintain very high standards of record-keeping and it's disappointing that, on this occasion, we fell short," the council said.
"We agree with the Orton family that it is now time to widen the search."