Vina Shah and Falguni Shah killed by wrong-way driver in California crash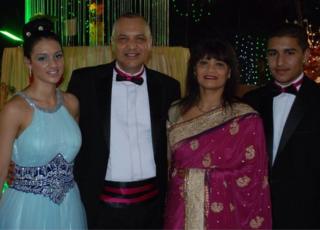 A British teenager has paid tribute to her mother and aunt, who were killed by a man driving the wrong way down a US road.
Freya Shah, from Leicester, saw the car going in the wrong direction about ten minutes before it hit the car her mother and aunt were in.
They had all been to a family reunion.
The wrong-way driver was also killed in the head-on crash on the 210 Freeway in Rancho Cucamonga, California, on Sunday.
Miss Shah's mother, 52-year-old Vina Shah, was from Leicester, and her aunt, 38-year-old Falguni Shah, was from the US.
'Horrifying scene'
Miss Shah, her 15-year-old brother Zenith Shah, her cousins and uncle were in a car about ten minutes ahead of the one her mother and aunt were in.
"We got home and around half an hour later we got worried," said Miss Shah, 19.
"We started ringing them and no-one was picking up so we got in the car and drove back the way we came.
"We saw the horrifying scene but were told by officers to wait at a gas station.
"After waiting at the gas station my uncle, cousin and brother walked to the scene and that was when we were told about the tragic news."
Speaking about her mother, Miss Shah said: "She was a beloved mother and wife, the pillar of our life, and she will be missed immensely.
"We have lost our beautiful angel and will be forever heartbroken.
"We pray and ask people to pray that her soul rests in peace."
California Highway Patrol said dozens of people contacted them to report the wrong-way driver, and they were investigating whether he was under the influence of alcohol or drugs.