Prince Charles and Duchess of Cornwall visit Rutland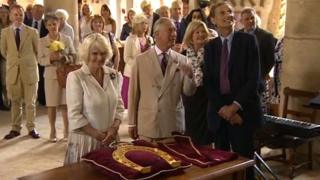 The Duchess of Cornwall presented a commemorative horseshoe to the market town of Oakham to mark her first official visit to Rutland.
Crowds lined the streets as the Duchess and the Prince of Wales met business owners before heading to Oakham Castle.
While in the town, they met residents and volunteers at St John and St Anne Almshouse, a housing complex for more than 100 retired people.
The couple also toured the wetland wildlife sanctuary at Rutland Water.
The day began with Prince Charles, who is patron of the Almshouse Association, and the Duchess visiting the housing, which was founded in Oakham in 1399.
As part of their tour, the royal couple were shown the restored St John Chapel and a plaque was unveiled to mark the visit.
Morris dancers welcomed the pair to the town centre, followed by a walkabout of the Market Square where their Royal Highnesses spoke to stall holders and shop owners.
They later visited Oakham Castle where they were welcomed by military personnel from Kendrew and St Georges Barracks, as well as scouts and girl guide groups.
Local primary schoolchildren sang for the couple at the castle before the Duchess presented a decorative horseshoe to mark her first official visit to the town.
The couple also spoke to young people involved in the step-up-to-serve campaign - a scheme aimed at getting more young people involved in volunteering.
They ended their day at Rutland Water where they met Wildlife Trust volunteers and toured the nature reserve.
During the tour the Prince was shown the wetland lagoons, which were created to extend the reserve and protect the wildlife.
Meanwhile, the Duchess toured the education centre and met local children at the pond-dipping area.