Tattoo hygiene rating scheme introduced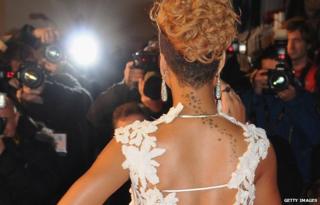 Tattoo businesses are being rated on how hygienic they are under a new voluntary scheme designed to drive up standards.
The ratings have already been introduced in Wales and are now being rolled out by councils in England.
Tattoo By Alex, in Anstey, Leicestershire, will be the first Midlands business to be rated.
Owner Alex Chapman said tattooing could be "really dangerous", and ratings would help protect customers.
"In the worst case scenario you could die, if they are using needles which have been used on someone else with Aids or hepatitis," he said.
"Don't go anywhere unless you've done a bit of homework about the artist.
"You see people all the time who walk around with tattoos that have gone wrong, and I've had to sort out people and redo them."
The tattoo hygiene rating scheme is led by the Chartered Institute of Environmental Health and is similar to the food hygiene rating scheme, with ratings from one to four.
A tattoo parlour in Gwent become the first in the UK to receive a rating, on 7 February.
Tattoo by Alex is being inspected by environmental health officers from Charnwood Borough Council on Tuesday, after the council decided to launch the scheme in its area.
The 17 registered tattoo businesses in the borough will be visited from July to September and asked if they would like to join the scheme.
Mr Chapman, 30, said it was a good time to introduce hygiene ratings as tattoos are becoming increasingly popular.
"It's because of celebrities like David Beckham," he said.
"People ask for tattoos like Demi Lovato and Rihanna.
"It's definitely a fashion thing."