Leicester, Leicestershire and Rutland end of life care 'unacceptable'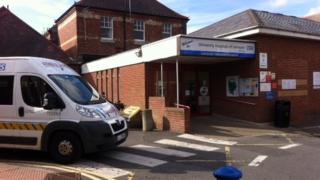 One in five patients who died in Leicestershire and Rutland received "unacceptable levels" of end of life care, a review has found.
The report looking at the cases of 381 patients found some were resuscitated when it was not in their best interests.
Some patients were brought into hospitals despite saying they wanted to die at home.
NHS bosses have apologised to families for "letting people down".
'Fractured and dysfunctional'
The internal review focused on care patients received between March 2012 and June 2013, including from hospitals, GPs and social services.
A total of 89 patients - about 23% of the sample - received "unacceptable" care, the review said.
Its authors Ron Hsu and Lucy Douglas-Pannett said: "There was evidence of fractured care, dysfunctional processes and lack of joined-up thinking throughout the NHS in Leicester, Leicestershire and Rutland."
The report found:
Confusion over "do not resuscitate" orders, which meant patients were resuscitated when it would have been "in their best interests" to have had end of life care and comfort.
Poor communication between parts of the health system and within hospitals led to delays in diagnosis and some patients were "not recognised as being at the end of life".
Patients who had expressed a preference to die at home were brought into hospital.
Labour MP for Leicester West, Liz Kendall, said: "I want to see all patients being given a choice about where they may want to spend their last hours and days."
GP chair of West Leicestershire NHS Clinical Commissioning Group Professor Mayur Lakhan has written to families to apologise.
"I think we have let people down," he said. "In those small number of cases we feel things could have been done better."
He said records were now being shared between GPs, hospitals and community services for patients at the end of their lives.
There are also plans to urge frontline doctors and nurses to discuss care plans for patients with serious illnesses "at a much earlier stage".