Matthew Dunn death: James Burton guilty of murder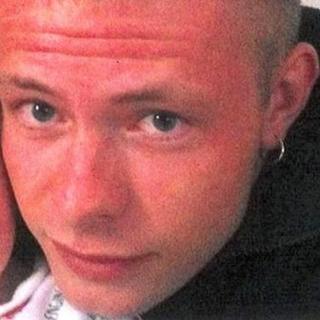 A man has been jailed for life for the murder of a man who died trying to protect his girlfriend and her baby.
James Burton, 32, of Earl Shilton, stabbed 23-year-old Matthew Dunn, 29 times at a house in Factory Road, Hinckley, Leicestershire, in January.
Burton's former girlfriend and her 14-month old son were threatened but escaped through a first floor window.
He was found guilty at Leicester Crown Court and will serve a minimum term of 30 years in prison.
'Everyone's hero'
Burton went into the house through the back door and then stabbed Mr Dunn multiple times, Leicestershire Police said.
His former partner ran upstairs with her 14-month-old son and jumped from the first floor of the property.
She suffered three fractures to her back and the baby had minor injuries.
Det Insp Tim Lindley, who led the investigation, said: "Burton was determined that someone was going to die.
"It was only through the bravery of Matthew in protecting his partner and her child, and her subsequent decision to jump out of an upstairs window, that prevented further deaths.
"Burton has maintained throughout that he was not responsible for his actions, and he did what he did, as he was being prevented from seeing his child as often as he would have liked."
Matthew Dunn's family said in a statement: "We are all proud to have had Matthew as part of our family.
"Matthew was, and always will be, everyone's hero. We will make sure Matthew's life wasn't taken in vain."
Burton was also sentenced to four years for one count of grievous bodily harm and four years for one count of making threats to kill. These will run concurrently.
He was found not guilty of a separate charge of threats to kill.