'Pit bull terrier' dies after police Tasering in Braunstone Town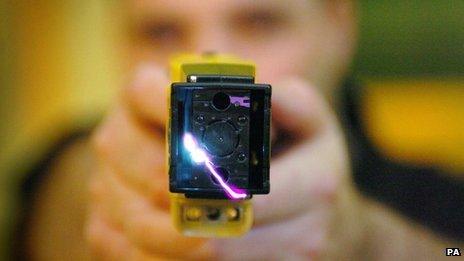 A dog thought to be a pit bull terrier which attacked another dog and its owner has died after being Tasered by police.
Leicestershire Police said it was necessary for its firearms officers to deploy the Taser to prevent further injuries.
They were called to Braunstone Town at about 19:05 BST on Sunday.
The injured owner received puncture wounds to his legs and was taken to hospital.
Police said they could not be sure what breed the dead dog was but it was suspected to be a pit bull terrier type.
The dog it attacked, thought to be a German Shepherd, was seriously injured and taken to a veterinary practice
Police said the dog could have attacked its officers or members of the public if it had not been stopped.
The force said in a statement: "In the interests of public safety, firearms officers were deployed to the scene.
"On arrival the attacking dog continued to be aggressive and attack the dog and its owner."
Police have asked for anyone with information about the attack to contact them.
The pit bull's owner was not thought to have been with it at the time of the attack.
Police said the owner may be arrested and charged with criminal offences.
Tasers incapacitate people by administering an electric shock and were designed to be non-lethal weapons when used on humans, though they have been involved in a number of deaths in the UK.
Related Internet Links
The BBC is not responsible for the content of external sites.