Leicester park warns over feeding ducks bread after disease outbreak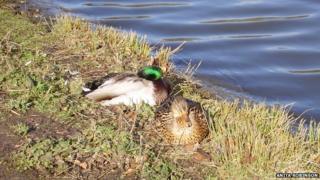 People have been asked to stop throwing bread for ducks in a park after 47 mallards were found dead.
The ducks in Braunstone Park, Leicester, died from suspected avian botulism - the East Midlands' first case this summer, Defra said.
City council parks officer Anita Robinson said a combination of warm weather and rotting bread may be spreading the disease.
It was not considered dangerous to humans, Defra said.
'Enough food'
Dead ducks have been spotted in the lake since mid-July, leaving just 19 at Ms Robinson's last count.
She said three weeks of sunny weather had dried up a brook flowing into the park's lakes, causing the water to become stagnant.
Bread thrown into the lake rots and collects the botulism bacteria in the water. Ducks dive to the bottom for the mouldy bread, causing the disease to spread faster, she said.
"Let the disease go; let the bacteria go so all the ducks can be healthy," she said.
"There's enough food around for the ducks anyway without giving them bread."
She hopes recent rain and cooler conditions could halt the spread of the disease.
Defra agency, which conducts tests when more than five birds are found dead in one place, said they have found no evidence of a disease which poses a risk to human health.
Several cases have been recorded this summer in the North West, but Defra said this was the first in the East Midlands..
---
What is avian botulism?
Defra defines avian botulism as a paralytic and often fatal disease caused by ingestion of a toxin produced by the bacterium Clostridium botulinum.
It multiplies in putrefying plant and animal material.
Humans are not in danger as the disease cannot be spread by touching or being near to an infected bird but Defra advised dog walkers to keep their pets away from water or sick or dead birds.
Richard Kelly, Leicester City Council's assistant nature conservation officer, said infected ducks appeared "incredibly lethargic".
"The duck will be swimming along the pond looking as though it wants to go to sleep," he said.
"It will drown - not a particularly nice way to die."
He urged anyone who spots ducks acting this way to call Defra.
---