Battle of Bosworth re-enactment: Thousands expected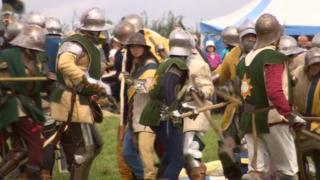 Thousands of people are expected to attend a re-enactment of the Battle of Bosworth that ended in the death of Richard III.
Organisers said 250 actors would recreate the battle on its 529th anniversary.
The battlefield visitor centre has seen a 40% rise in visitors since the discovery of the remains of Richard III in Leicester.
Swords, cannons and poleaxes will be used during the re-enactment.
'Lots of screams'
Organiser Mark Annable said: "In the main arena we will have everything from jousting to the re-enactment of the Battle of Bosworth.
"There will be lots of archery going off, with some cannons and poleaxes, swords and people banging into each other with lots of screams."
Organisers said it is expected to attract the biggest crowds since the 500th anniversary of the battle in 1985.
Richard Knox from Leicestershire County Council said: "We have made the arena bigger than it has ever been before.
"This could be one of the biggest events we have ever had ... it is going from strength to strength ... and we are expecting about 5,000 people over the weekend."
The re-enactment activities take place on Saturday and Sunday.
The remains of Richard III were confirmed as those of the king last year after being found in a car park in Leicester in 2012.
He will be reinterred on 26 March 2015 at Leicester Cathedral after a week-long series of events, including a procession from the battlefield to the cathedral.
Richard III, who reigned from 1483, was killed in the final battle of the Wars of the Roses at Bosworth in 1485.