Nine WW1 Belgian soldiers honoured in Leicester ceremony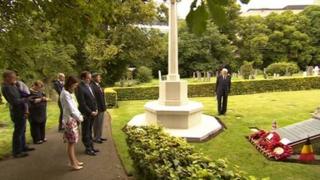 Nine Belgian soldiers who died during World War One and were buried in Leicester have been honoured.
The Belgian vice-consul in London paid tribute to the soldiers duing the service at Welford Road Cemetery.
The soldiers died at a Leicester hospital, which has since closed, after being injured in battle in France.
Vice-consul Christiaan Sys said it was important that "every single person who died in the war" was remembered for what they had done.
'Horrible carnage'
"It was not the 'Great War' but a horrible carnage," said Grahame Lees, a member of the Friends of Welford Road Cemetery.
"We thought it would be appropriate to honour those Belgians who are buried here."
Mr Lees said many people did not realise the cemetery had graves of soldiers who died in Leicester after being wounded and brought to the local hospital.